Roll over image to zoom in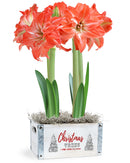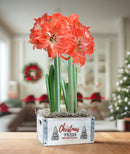 Description
Embrace the festive cheer of the holiday season with our Red and White Amaryllis Bulb Gift, a vibrant symbol of celebration and joy. Within a swift 4-8 weeks, this remarkable bulb will burst into a dazzling display of red and white blooms, each one a festive tribute to the most wonderful time of the year. These striking flowers are not just blooms; they are a vibrant tapestry of holiday colors, blending the warmth of red with the purity of white. Presented in an elegantly decorative box, this gift is more than just a plant—it's a complete package of holiday delight. Topped with decorative moss, each gift is meticulously prepared, ensuring it's ready to grow and flourish upon arrival.
Imagine the transformation as these Amaryllis blooms unfurl, bringing with them the spirit and charm of the holidays. Each petal is a brushstroke of joy, adding a bright, cheerful ambiance to any room. This bulb gift is an ideal way to spread holiday cheer among friends and family or to add a touch of seasonal splendor to your own home. The Red and White Amaryllis Bulb Gift is more than just a gesture; it's an experience, a journey through the beauty and excitement of the holiday season. Order now and prepare to be enchanted by the captivating beauty of these holiday blooms, a perfect addition to your festive decorations.
We guarantee EVERYTHING we sell on this site 100%.
All plants are 100% guaranteed to grow and thrive. If you follow our simple care instructions, and if any plant still does not grow, please notify us by June 1 of the following year and we will replace it or refund your money, with no questions asked. All Products 100% GUARANTEED!