Roll over image to zoom in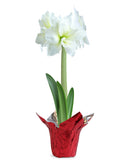 Description
Introducing our extraordinary White Amaryllis in Red Foil, a marvel of floral elegance in a compact form. Despite its petite stature, this amaryllis is a powerhouse of blooming beauty, ready to unfurl an abundance of stunning double white flowers. Each bulb in this gift is a promise of a dazzling display, with blooms that captivate with their purity and simplicity. The blooms, emerging in just 4-6 weeks, are not mere flowers; they are symbols of enduring grace and a testament to the wonder of nature. This amaryllis is pre-planted in a 4" pot, thoughtfully adorned with a festive red foil cover that adds a touch of holiday cheer and sophistication."
Imagine the joy and surprise as these white amaryllis blooms come to life, transforming any space into a showcase of serene beauty. The continuous blooming of this plant ensures a lasting display of floral splendor, perfect for brightening up winter days or adding a refined touch to your holiday decor. This gift is an ideal choice for someone special or as a treat for yourself, offering a unique blend of elegance and festivity. The White Amaryllis in Red Foil is more than just a plant; it's a celebration of beauty, a delightful enhancement to any home. Don't miss the opportunity to share or enjoy this exquisite display of nature's artistry, a true gem of the holiday season
We guarantee EVERYTHING we sell on this site 100%.
All plants are 100% guaranteed to grow and thrive. If you follow our simple care instructions, and if any plant still does not grow, please notify us by June 1 of the following year and we will replace it or refund your money, with no questions asked. All Products 100% GUARANTEED!