Roll over image to zoom in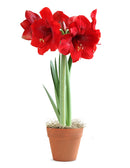 Description
Introducing 'Red Amaryllis in Faux Terracotta', a stunning pre-potted gift that embodies the spirit of both tradition and elegance. This exquisite arrangement features a vibrant red Amaryllis, known for its bold and striking blooms that symbolize strength and beauty. Each flower unfolds from the bulb to reveal magnificent, trumpet-shaped petals, creating an eye-catching display of vivid color. The Amaryllis is perfectly housed in a faux terracotta pot, which combines the classic aesthetic of traditional terracotta with the convenience and durability of modern materials. The rustic charm of the pot enhances the fiery red of the Amaryllis, making this arrangement a captivating addition to any space.
This 'Red Amaryllis in Faux Terracotta' is more than just a floral gift; it's a piece of living art. The dramatic contrast between the rich red blooms and the earth-toned pot creates a warm, inviting atmosphere in any room. Ideal for holiday decor, special occasions, or as a thoughtful gift, this pre-potted Amaryllis is a celebration of natural beauty and elegant design. Easy to care for and guaranteed to bloom, it offers the joy of gardening without the guesswork. Bring this stunning piece into your home or give it to someone special to share the beauty and joy of a blooming Amaryllis, a gift that keeps giving as it grows and flourishes.
We guarantee EVERYTHING we sell on this site 100%.
All plants are 100% guaranteed to grow and thrive. If you follow our simple care instructions, and if any plant still does not grow, please notify us by June 1 of the following year and we will replace it or refund your money, with no questions asked. All Products 100% GUARANTEED!