Roll over image to zoom in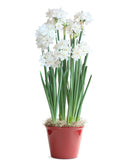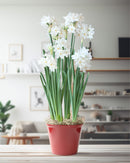 Description
Welcome the essence of spring into your home with our exquisite Paperwhite gift, featuring five frilly and wonderfully fragrant bulbs. These Paperwhites are not just flowers; they're a celebration of nature's elegance, poised to bloom in a swift 4-6 weeks. Each bulb is lovingly pre-planted in a 6" pot, enveloped in a charming cranberry-colored spring pot cover that enhances their natural beauty. The delicate blossoms of the Paperwhites unfold to reveal a captivating display, transforming any space with their gentle charm and delightful aroma. This pre-planted gift is a perfect fusion of convenience and natural allure, offering a hassle-free way to enjoy the timeless beauty of spring flowers in your own home.
Perfect for any occasion, these Paperwhites are more than just a gift; they are a gesture of joy and rejuvenation. Their easy care and enduring fragrance make them an ideal addition to any setting, infusing your space with a sense of serenity and freshness. Whether as a thoughtful present for a loved one or as a treat for yourself, these Paperwhites promise to bring a touch of springtime cheer to any environment. Embrace the opportunity to brighten your home or the day of someone special with these exquisite flowers. Order your Paperwhites now and bask in the delicate beauty and soothing fragrance of these enchanting blooms.
We guarantee EVERYTHING we sell on this site 100%.
All plants are 100% guaranteed to grow and thrive. If you follow our simple care instructions, and if any plant still does not grow, please notify us by June 1 of the following year and we will replace it or refund your money, with no questions asked. All Products 100% GUARANTEED!