Roll over image to zoom in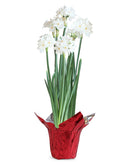 Description
Welcome the essence of the holiday season with our charming trio of Paperwhite bulbs, elegantly pre-planted and primed to bring joy and fragrance into your home. These bulbs are not just plants; they're a living celebration of the festive spirit. Within just 4-6 weeks of arrival, they will transform into a splendid display of delicate, star-shaped flowers, filling your space with their sweet, enchanting aroma. Each Paperwhite is carefully nestled in a 4" container, complete with a festive red foil cover that adds an extra touch of holiday sparkle. This garden is a perfect blend of elegance and convenience, offering an effortless way to infuse your home with natural beauty and the fresh promise of spring.
Imagine the delight of watching these Paperwhites grow, a captivating process that mirrors the excitement of the holiday season. Each bloom is a reminder of nature's simple pleasures and the joy of new beginnings. These Paperwhites in Red Foil make exquisite gifts for friends, family, or colleagues, spreading cheer and goodwill. They are also a splendid treat for yourself, brightening your home with their serene beauty and subtle fragrance. Don't miss the opportunity to share these delightful Paperwhite gardens. Order now and bring a touch of living beauty to this year's holiday celebrations, creating memories that will bloom as beautifully as the flowers themselves.
We guarantee EVERYTHING we sell on this site 100%.
All plants are 100% guaranteed to grow and thrive. If you follow our simple care instructions, and if any plant still does not grow, please notify us by June 1 of the following year and we will replace it or refund your money, with no questions asked. All Products 100% GUARANTEED!