Roll over image to zoom in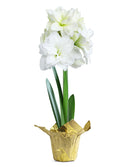 Description
Experience the splendor of our White Amaryllis in Gold Foil, a stunning embodiment of elegance and vitality. This double white amaryllis, though petite in size, delivers a powerful impact with its abundant blooms. Each flower is a marvel of design, showcasing nature's remarkable ability to pack immense beauty into a compact space. The pure white petals unfold to reveal a heart of gentle grace, transforming your space with a refined and peaceful ambiance. This gift, pre-planted in a 4" pot, is elegantly encased in a festive gold foil cover, adding a touch of luxury and celebration. It's a perfect blend of sophistication and holiday charm, ready to grow and bring joy to any setting.
"Within just 4-6 weeks, be prepared to witness a magnificent floral display as these blooms come to life, continuing to captivate for weeks on end. Each unfolding petal is a reminder of the season's magic and wonder, offering a continuous spectacle of blooming splendor. This White Amaryllis in Gold Foil isn't just a plant; it's a statement of style and an expression of joy, making it an ideal gift for loved ones or a delightful treat for yourself. Its enduring beauty and charm will enhance any room, creating a warm and inviting atmosphere throughout the holiday season. Don't miss the chance to bring this exquisite piece of natural artistry into your home, and revel in the elegance and tranquility it brings.
We guarantee EVERYTHING we sell on this site 100%.
All plants are 100% guaranteed to grow and thrive. If you follow our simple care instructions, and if any plant still does not grow, please notify us by June 1 of the following year and we will replace it or refund your money, with no questions asked. All Products 100% GUARANTEED!