Roll over image to zoom in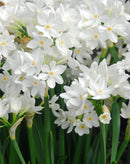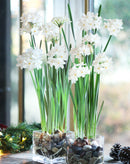 Description
Welcome a touch of winter magic into your home with our Ziva Paperwhite bulbs, the epitome of elegance and simplicity in indoor gardening. Celebrated for their effortless care and bountiful blossoms, Ziva Paperwhites are a gardener's delight, offering an enchanting escape from the cold winter days. Imagine the joy of witnessing these radiant white flowers unfurling their petals, 9-14 stunning florets on each of 1-3 robust stems, gracefully stretching to a height of 16-20 inches. The rich, sweet fragrance of these blooms will fill your home, creating a cozy, inviting atmosphere that's perfect for the holiday season or simply as a cheerful antidote to winter's grey skies.
In just 4 to 6 weeks from planting, be prepared to be swept away by the allure of your own indoor garden, a testament to the life and growth that thrives even during the dormant months. Ziva Paperwhites represent more than just beauty; they symbolize resilience and hope, flourishing with minimal care. Perfect for gardeners of all levels, these bulbs promise to transform your living space into a haven of natural splendor and aromatic bliss. Don't wait to bring this captivating wonder into your home. Click 'Add to Cart' now and embark on a journey that turns everyday spaces into extraordinary winter sanctuaries!
| | |
| --- | --- |
| Bloom Time | 4-6 weeks |
| Color | White |
| Foliage Color | Green |
| Height | 16-20" |
| Sun Requirements | Indoor |
| Type/Size | 13-14 cm bulbs |
| Hardiness Zone | 9, 10, 11 |
We guarantee EVERYTHING we sell on this site 100%.
All plants are 100% guaranteed to grow and thrive. If you follow our simple care instructions, and if any plant still does not grow, please notify us by June 1 of the following year and we will replace it or refund your money, with no questions asked. All Products 100% GUARANTEED!