Roll over image to zoom in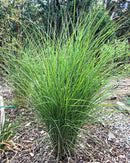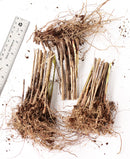 Description
Elevate your garden to new heights with the Silberfeder Silver Feather Grass, a majestic choice for those seeking to create striking landscape accents and captivating vertical elements. Towering gracefully at 6 to 8 feet tall, this grass grows in a proud, upright fashion, making a bold statement in any garden setting. The long, elegant blades of green foliage serve as a lush backdrop throughout the growing season. Then, as the warmth of late summer blankets your garden, Silberfeder unveils its true splendor with an abundance of shimmering white flowers, each 3 to 5 inches in size, creating a dazzling spectacle that is both dramatic and enchanting.
The beauty of Silberfeder Silver Feather Grass extends beyond the daytime, transforming your garden into a magical nightscape. Under the glow of the moonlight, the white blooms take on an ethereal, luminescent quality, appearing to dance and flicker in the night air. This characteristic makes it an exquisite choice for evening gardens or areas where nighttime allure is desired. Not only visually stunning, but this grass is also a symbol of resilience and ease, thriving with minimal care and providing year-round interest. Whether used as a standalone showpiece or grouped for greater impact, Silberfeder Silver Feather Grass is a breathtaking addition to any landscape, promising to bring a sense of wonder and sophistication to your outdoor haven
| | |
| --- | --- |
| Bloom Size | 3-5 inches |
| Bloom Time | Late Summer |
| Color | White |
| Foliage Color | Green |
| Sun Requirements | Full Sun to Partial Shade |
| Type/Size | #1 Bareroot |
| Hardiness Zone | 4, 5, 6, 7, 8, 9 |
We guarantee EVERYTHING we sell on this site 100%.
All plants are 100% guaranteed to grow and thrive. If you follow our simple care instructions, and if any plant still does not grow, please notify us by June 1 of the following year and we will replace it or refund your money, with no questions asked. All Products 100% GUARANTEED!