Roll over image to zoom in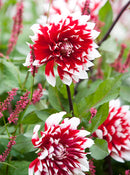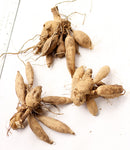 Description
This peculiar eye-catching Dahlia grows up to 4 ft tall and is sure to impress in any garden or bouquet. The Mystery Day Dahlia is a heavy bloomer, producing spherical deep-red flowers with white accents at the tip of every petal. The flowers have a long-lasting life in a case compares to other flowers of its kind. The more you take cuttings, the more the plant will produce. Plant them in small groups in a sheltered location to prevent damage from strong winds. This Dahlia must be protected from frost and low temperatures.
Bloom Size
6 inches
Bloom Time
Mid Summer
Color
Red, White
Height
24-48"
Sun Requirements
Full Sun, Partial Shade
Type/Size
#1 Division

Hardiness Zone
8, 9, 10
We guarantee EVERYTHING we sell on this site 100%.
All plants are 100% guaranteed to grow and thrive. If you follow our simple care instructions, and if any plant still does not grow, please notify us by June 1 of the following year and we will replace it or refund your money, with no questions asked. All Products 100% GUARANTEED!