Roll over image to zoom in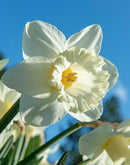 Description
Elevate your garden's spring display with the Mount Hood Trumpet Daffodils, a stunning reinterpretation of a beloved springtime favorite. These daffodils are a masterpiece of elegance and design, featuring a beautifully ruffled trumpet that is the epitome of floral perfection. As mid-spring arrives, Mount Hood Trumpet Daffodils burst into bloom, unfurling their dazzling white petals in a brilliant display that heralds the return of sunny days. Standing tall at up to 20 inches, these daffodils are not just flowers; they are a spectacle, especially when planted en masse, creating a sea of pristine white that is sure to captivate and enchant.
The Mount Hood Trumpet Daffodil is more than just a visual delight; it's also a symbol of resilience and adaptability. Thriving in a balance of sun and shade, these bulbs are as hardy as they are stunning, ensuring a robust and eye-catching display year after year. Imagine a cluster of these regal white blooms swaying gently in the spring breeze, transforming your garden into a haven of tranquility and beauty. Perfect for borders, beds, or as a striking centerpiece, the Mount Hood Trumpet Daffodil is an exquisite choice for gardeners looking to add a touch of sophistication and timeless elegance to their springtime garden.
| | |
| --- | --- |
| Genus | Narcissus |
| Bloom Time | Mid-Spring |
| Height | 16-20" |
| Color | White |
| Foliage Color | Green |
| Sun Requirements | Full Sun, Partial Shade |
| Hardiness Zone | 3, 4, 5, 6, 7, 8 |
We guarantee EVERYTHING we sell on this site 100%.
All plants are 100% guaranteed to grow and thrive. If you follow our simple care instructions, and if any plant still does not grow, please notify us by June 1 of the following year and we will replace it or refund your money, with no questions asked. All Products 100% GUARANTEED!