Roll over image to zoom in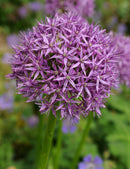 Description
Step into a world of majestic beauty with our Purple Sensation Allium bulbs, a true masterpiece of nature's artistry. Each package contains five premium 10/12 cm bulbs, ready to unfurl into stunning, baseball-sized blooms that are a spectacle to behold. Imagine a sea of violet-purple flowers, each intricately composed of hundreds of tiny florets, coming together to form a perfect sphere perched atop 20-30" elegant stems. These alliums are not just plants; they are a statement, transforming any garden into an enchanting oasis of rich, royal hues. The Purple Sensation variety is renowned for its vibrant color and impressive size, making it a standout addition to any landscape. Blooming from spring through early summer, these alliums ensure your garden remains a focal point of beauty and wonder during the most vibrant seasons.
Beyond their breathtaking appearance, Purple Sensation Alliums are celebrated for their versatility and ease of care. They are as splendid in garden beds and borders as they are in cut flower arrangements, bringing their regal charm indoors. These alliums also make for spectacular dried flowers, preserving their beauty long after the bloom has passed. Their tall, sturdy stems add height and structure to your garden, creating a visually stunning display that draws the eye and captivates the soul. Each bloom is a testament to your gardening prowess, a reward for your care and attention. Don't miss the opportunity to elevate your garden with these exquisite blooms. Add them to your cart now and witness the transformation of your outdoor space into a haven of purple splendor and elegance
We guarantee EVERYTHING we sell on this site 100%.
All plants are 100% guaranteed to grow and thrive. If you follow our simple care instructions, and if any plant still does not grow, please notify us by June 1 of the following year and we will replace it or refund your money, with no questions asked. All Products 100% GUARANTEED!