Roll over image to zoom in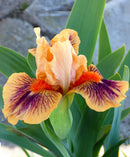 Description
Embrace the Wild Splendor with 'Bear's Ears' Bearded Iris: Delight in the rustic allure of 'Bear's Ears', a Bearded Iris that captivates with its unique charm and vibrant personality. Named for its resemblance to the majestic ears of a bear, this variety adds an element of whimsical wilderness to your garden. Imagine it flourishing in well-drained soil, thriving under the golden embrace of full sunlight. Each bloom is a celebration of nature's untamed beauty, transforming your outdoor space into a serene, yet wild haven.
A Touch of the Untamed in Your Garden Oasis: 'Bear's Ears' is not just a plant; it's an experience. As you plant these roots, envision the transformation of your garden into a vibrant tapestry of color and life. With minimal care, watch as 'Bear's Ears' stands up to 7.5", its elegant blossoms dancing in the breeze, bringing a sense of freedom and natural beauty to your garden. Let 'Bear's Ears' be the beacon that guides you to a world where nature's wild heart beats in harmony with your own garden dreams.
| | |
| --- | --- |
| Bloom Time | Early Spring |
| Color | Peach, Purple |
| Foliage Color | Green |
| Height | Up to 7.5" |
| Sun Requirements | Full Sun, Partial Shade |
| Type/Size | #1 Division |
| Hardiness Zone | 3, 4, 5, 6, 7, 8, 9 |
We guarantee EVERYTHING we sell on this site 100%.
All plants are 100% guaranteed to grow and thrive. If you follow our simple care instructions, and if any plant still does not grow, please notify us by June 1 of the following year and we will replace it or refund your money, with no questions asked. All Products 100% GUARANTEED!