Roll over image to zoom in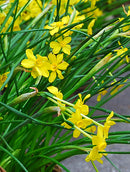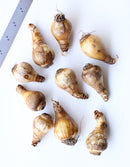 Description
Introducing the enchanting Baby Moon Jonquilla Daffodil, a delightful addition to any garden with its tiny, yet radiant yellow flowers. Each bloom of the Baby Moon is a miniature treasure, exuding charm and brightness. Growing to a modest height of 6 -12 inches, these daffodils are perfect for creating a whimsical and cheerful ambiance in your garden. Their petite size makes them ideal for tucking into nooks and crannies, or for adding a pop of color to the front of flower beds, where their delightful presence can be fully appreciated.
What sets the Baby Moon Daffodil apart is its affinity for warmth, thriving in the heat and bringing a burst of sunshine to your spring and summer gardens. These daffodils are not only a joy to behold but are also easy to grow, requiring minimal care to flourish. Plant them in clusters to create a sea of golden blooms, or intersperse them among other spring flowers for a playful and vibrant display. The Baby Moon Daffodil is a charming choice for gardeners who wish to extend the joy of spring into the warmer months, ensuring a continuous parade of color and beauty in their outdoor spaces.
| | |
| --- | --- |
| Genus | Narcissus |
| Bloom Time | Early Spring |
| Height | 6-12" |
| Color | Yellow |
| Foliage Color | Green |
| Sun Requirements | Full Sun, Partial Shade |
| Hardiness Zone | 3, 4, 5, 6, 7, 8 |
We guarantee EVERYTHING we sell on this site 100%.
All plants are 100% guaranteed to grow and thrive. If you follow our simple care instructions, and if any plant still does not grow, please notify us by June 1 of the following year and we will replace it or refund your money, with no questions asked. All Products 100% GUARANTEED!