Roll over image to zoom in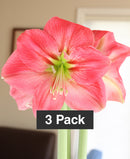 Description
Invite a touch of delicate grace with our pink amaryllis bulbs! These indoor treasures are a soft symphony of pastel perfection, making them an exquisite addition to any home decor. As the days grow shorter and the temperatures dip, imagine the sheer joy of witnessing these elegant bulbs transform into breathtaking pink blooms, infusing your interiors with a serene, rosy glow.
Gifting this 3-pack speaks volumes. It's a gentle gesture of love and admiration, a promise of beauty waiting to unfold. From the moment they're potted, the enchanting journey begins. In just 6-12 weeks, slender stems rise to reveal opulent pink blossoms, turning a simple corner of your home into a tranquil haven of floral elegance.
We guarantee EVERYTHING we sell on this site 100%.
All plants are 100% guaranteed to grow and thrive. If you follow our simple care instructions, and if any plant still does not grow, please notify us by June 1 of the following year and we will replace it or refund your money, with no questions asked. All Products 100% GUARANTEED!