Roll over image to zoom in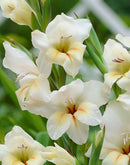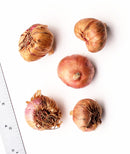 Description
SHIPPING NOW
These adorable spring flowers will light your garden up with their graceful creamy tones. The blooms have a beautiful soft color gradient from creamy-yellow to white, and the petals are delicately curled outwards. This is a Dwarf Gladiolus, which means the plant is short and compact. While Gladiolus plants can grow up to 4 feet, the Halley Hardy comes in at a maximum of 1.5 feet high. This can work to your advantage. In addition, the Halley Hardy Gladiolus is indeed hardier than most Gladiolus, capable of surviving cold winters with proper protection.
| | |
| --- | --- |
| Bloom Time | Summer |
| Height | 12-24" |
| Sun Requirements | Full to Partial Shade |
| Type/Size | 10-12 cm Bulbs |
| Hardiness Zone | 5, 6, 7, 8 |
We guarantee EVERYTHING we sell on this site 100%.
All plants are 100% guaranteed to grow and thrive. If you follow our simple care instructions, and if any plant still does not grow, please notify us by June 1 of the following year and we will replace it or refund your money, with no questions asked. All Products 100% GUARANTEED!