Roll over image to zoom in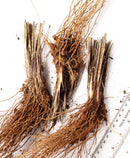 Description
Discover the mesmerizing allure of Alopecuroides Fountain Grass, a show-stopping ornamental that brings dynamic movement and texture to your garden. This splendid variety forms lush, expansive mounds of slender leaves, arching outward in a graceful, fountain-like manner. As the summer days lengthen, Alopecuroides Fountain Grass reveals its true splendor. Long, silvery-gold flower plumes majestically rise above the foliage, unfurling in a spectacular display that captivates from July through September. This is not just a plant; it's a living sculpture that adds elegance and drama to any space.
Beyond its stunning visual appeal, Alopecuroides Fountain Grass is celebrated for its robust growth and enduring beauty. It thrives with ease, generously rewarding gardeners with its graceful, flowing presence year after year. Ideal for creating eye-catching accents in borders or as a standalone feature, it also offers the delightful bonus of being excellent for cutting, allowing you to bring a piece of its elegance indoors. Embrace the charm and resilience of Alopecuroides Fountain Grass and let it transform your garden into an enchanting haven of beauty and tranquility.
| | |
| --- | --- |
| Bloom Size | 3-6 inches |
| Bloom Time | Summer |
| Foliage Color | Green |
| Sun Requirements | Full Sun to Partial Shade |
| Type/Size | #1 Bareroot |
| Hardiness Zone | 5, 6, 7, 8, 9 |
We guarantee EVERYTHING we sell on this site 100%.
All plants are 100% guaranteed to grow and thrive. If you follow our simple care instructions, and if any plant still does not grow, please notify us by June 1 of the following year and we will replace it or refund your money, with no questions asked. All Products 100% GUARANTEED!