Roll over image to zoom in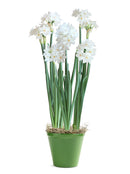 Description
Embrace the essence of natural elegance with our 'Paperwhites in a Green Pot', a pre-planted bulb gift that brings the serene beauty of nature into your home. This exquisite offering features the delightful Paperwhite bulbs, known for their delicate, star-shaped blooms and sweet fragrance. These bulbs are meticulously pre-planted in a chic green pot, whose earthy hue beautifully complements the pure white of the Paperwhites. The contrast is visually striking, creating a piece that's as much a work of art as it is a floral display. This arrangement is more than just a plant; it's a symbol of growth and renewal, perfect for brightening any space with its subtle yet captivating presence.
The magic of the Paperwhites begins as soon as they are watered, transforming from unassuming bulbs to a vibrant cluster of flowers within 4-6 weeks. As they bloom, their sweet aroma gently perfumes the air, providing a soothing and inviting atmosphere. This 'Paperwhites in a Green Pot' gift is an ideal way to add a touch of serenity to your living space or to share the joy of growth with someone special. Whether it's a thoughtful holiday present, a stylish addition to your décor, or a way to celebrate a new beginning, this pre-planted bulb gift is a testament to the simple pleasures of life. Order now and welcome a touch of nature's tranquility into your life.
We guarantee EVERYTHING we sell on this site 100%.
All plants are 100% guaranteed to grow and thrive. If you follow our simple care instructions, and if any plant still does not grow, please notify us by June 1 of the following year and we will replace it or refund your money, with no questions asked. All Products 100% GUARANTEED!