Roll over image to zoom in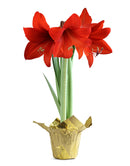 Description
Welcome the joy and warmth of the holiday season with our charming pre-planted Red Amaryllis In Gold Foil Bulb Gift, a beacon of vibrant beauty during the winter months. This festive red Amaryllis, though petite in stature, is a powerhouse of blooming splendor, sure to illuminate any space with its bright, cheerful presence. Each bulb is a hidden treasure, ready to unfurl an impressive array of blooms that belie its compact size. Nestled in a 4' pot, this Amaryllis is elegantly wrapped in a holiday-themed gold foil cover, adding a touch of sparkle and festivity. It's not just a plant; it's a symbol of holiday cheer and a reminder of the beauty that thrives even in the coldest of seasons.
Imagine the delight of watching this Amaryllis grow and bloom within just 4-6 weeks, a magical transformation that brings life and color to your home. This pre-planted gift is a perfect blend of convenience and charm, making it an ideal present for loved ones, colleagues, or even as a treat for yourself. The rich red blooms are like a burst of joy, a perfect complement to holiday decorations or a standalone piece of natural art. Give the gift of growth and beauty this holiday season with this exquisite Amaryllis bulb. It's more than just a gift; it's an experience, a journey of bloom and brightness that captures the essence of the holidays.
We guarantee EVERYTHING we sell on this site 100%.
All plants are 100% guaranteed to grow and thrive. If you follow our simple care instructions, and if any plant still does not grow, please notify us by June 1 of the following year and we will replace it or refund your money, with no questions asked. All Products 100% GUARANTEED!