Roll over image to zoom in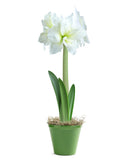 Description
Introducing our White Amaryllis in a Green Pot, a stunning embodiment of elegance and tranquility. This exquisite amaryllis bulb comes pre-planted in a green pot, is a masterpiece of contrast and beauty. As the bulb awakens, it unfurls into magnificent white blooms, each petal a testament to purity and grace. The brilliance of the white flowers, large and lustrous, stands in beautiful juxtaposition to the deep, verdant tones of the pot. This arrangement is not just a plant; it's a statement piece, a blend of modern elegance and classic beauty, perfect for enhancing any space with a touch of serenity and sophistication.
Imagine this White Amaryllis as the centerpiece of your room, bringing a calm, yet striking presence to your home or office. As the amaryllis blooms, its enchanting beauty and the subtle elegance of the green pot create a harmonious ambiance, ideal for any décor. This plant is more than just an ornament; it's a living sculpture, a constant reminder of nature's remarkable beauty. Ideal as a gift for a loved one or as a treat for yourself, this White Amaryllis in a Green Pot is a celebration of natural elegance and an invitation to enjoy the simple, yet profound beauty of life. Add this exquisite piece to your collection today, and let it transform your space into a haven of peace and elegance.
We guarantee EVERYTHING we sell on this site 100%.
All plants are 100% guaranteed to grow and thrive. If you follow our simple care instructions, and if any plant still does not grow, please notify us by June 1 of the following year and we will replace it or refund your money, with no questions asked. All Products 100% GUARANTEED!