Roll over image to zoom in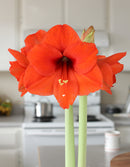 Description
Introducing the Orange Sovereign Amaryllis bulb, a radiant gem in the world of indoor flora. This exceptional bulb, with its generous 24-26 cm size, is a beacon of vibrant life and energy. Its bright orange blooms are more than just flowers; they are bursts of sunshine, transforming any space into a haven of warmth and joy. The Orange Sovereign is truly delightful, offering a spectacular show of color within just 6-8 weeks of planting. Each blossom is a celebration of nature's vivid palette, unfolding in a dazzling display that's sure to captivate and uplift.
Imagine the delight of watching this magnificent bulb come to life, its lush petals unfurling to reveal a vibrant orange hue that's as uplifting as a sunny day. Whether gracing a sunny windowsill or adding a pop of color to a cozy corner, the Orange Sovereign Amaryllis stands as a symbol of happiness and vitality. It's an ideal choice for adding cheer to your home during the colder months or as a thoughtful gift to brighten someone's day. This bulb doesn't just bloom; it brings with it a promise of rejuvenation and beauty, a reminder of the endless possibilities that nature holds. Don't wait to experience this floral wonder—embrace the joy and splendor of the Orange Sovereign Amaryllis today.
| | |
| --- | --- |
| Bloom Size | 6 inches |
| Bloom Time | 6-8 weeks |
| Color | Orange |
| Foliage Color | Green |
| Height | 12-24" |
| Sun Requirements | Indoor Plant |
| Type/Size | 24-26 cm bulbs |
| Hardiness Zone | 9, 10, 11 |
We guarantee EVERYTHING we sell on this site 100%.
All plants are 100% guaranteed to grow and thrive. If you follow our simple care instructions, and if any plant still does not grow, please notify us by June 1 of the following year and we will replace it or refund your money, with no questions asked. All Products 100% GUARANTEED!