Roll over image to zoom in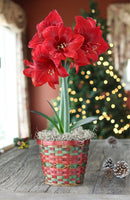 Description
Indulge in the spirit of the season with our pre-planted Magnificent Amaryllis Bulb Gift, a symbol of luxury and festive cheer. Each bulb, nestled in its own decorative green and red bamboo basket measuring 7" x 6 1/2", is a promise of stunning beauty waiting to unfold. The Amaryllis blooms boast a deep, burgundy red hue, radiating elegance and sophistication. These large, satiny blooms, each spanning up to 6 inches across, are a marvel of floral design, destined to become the centerpiece of holiday décor. This gift isn't just a plant; it's a gesture of warmth and joy, a perfect way to convey your heartfelt holiday wishes. The Amaryllis comes pre-planted and topped with decorative moss, making it an effortless yet exquisite gift for friends, family, or colleagues.
Imagine the delight and surprise as these Magnificent Amaryllis blooms reveal themselves within just 4-6 weeks, bringing a touch of nature's splendor to any indoor setting. This gift goes beyond the ordinary, offering a unique and lasting experience that encapsulates the magic of the holiday season. Each bloom is a reminder of the thoughtfulness behind the gift, a lasting impression of beauty and elegance. And don't forget to treat yourself to this enchanting spectacle; let these Amaryllis blooms brighten your home and heart, adding a touch of luxury to your own holiday celebrations. Order now and embrace the joy of giving something truly special and unforgettable this holiday season.
We guarantee EVERYTHING we sell on this site 100%.
All plants are 100% guaranteed to grow and thrive. If you follow our simple care instructions, and if any plant still does not grow, please notify us by June 1 of the following year and we will replace it or refund your money, with no questions asked. All Products 100% GUARANTEED!