Roll over image to zoom in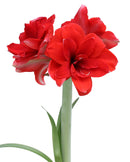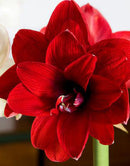 Description
Introducing the Double Dragon flower bulb, a true spectacle of floral grandeur. Envision scarlet-red double blooms, each spanning over 8 inches across, unfolding like a tapestry of rich, velvety petals. These blooms aren't just flowers; they are a statement, a bold declaration of beauty and elegance. The Double Dragon variety is renowned for its breathtaking brilliance and depth of color, making it a dazzling centerpiece in any garden or indoor setting. This holiday season, let the Double Dragon be your beacon of joy and celebration, adding a touch of splendor to your festive decorations. Each flower is a work of art, intricately layered and bursting with a vibrancy that captivates and enchants all who behold it.
As much a perfect gift as it is a personal indulgence, the Double Dragon bulb is an unforgettable way to express love and appreciation. Imagine the delight and awe it will bring to a special someone, a gift that grows and blossoms into a magnificent display of affection. Or treat yourself to this horticultural marvel and watch as it transforms your living space into a haven of warmth and color. However, be mindful that such extraordinary beauty is in limited supply. Secure your Double Dragon bulb today and be one of the fortunate few to experience its unparalleled splendor. Embrace the opportunity to own or gift not just a flower, but a symbol of beauty, strength, and enduring elegance.
| | |
| --- | --- |
| Bloom Size | 6 inches |
| Bloom Time | 4-6 weeks |
| Color | Red |
| Foliage Color | Green |
| Height | 12-24" |
| Sun Requirements | Indoor Plant |
| Type/Size | 24-26 cm bulbs |
| Hardiness Zone | 9, 10, 11 |
We guarantee EVERYTHING we sell on this site 100%.
All plants are 100% guaranteed to grow and thrive. If you follow our simple care instructions, and if any plant still does not grow, please notify us by June 1 of the following year and we will replace it or refund your money, with no questions asked. All Products 100% GUARANTEED!