Roll over image to zoom in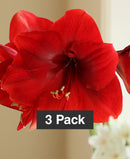 Description
Elevate your indoor spaces with the scintillating charm of red amaryllis bulbs! Often celebrated as the star of holiday décor, these bulbs unfurl into magnificent blooms, bringing warmth and festive cheer right into your home. Picture this: as the winter chill sets in, your living room is graced with the vibrant hues of amaryllis, each petal radiating joy and festivity.
Gifting or receiving this 3-pack is like sharing a promise of beauty. From the moment of potting, the anticipation begins. Within 6-12 weeks, the magic unfolds as tall, elegant stems bear opulent red blossoms, turning any corner of your home into a seasonal spectacle.
We guarantee EVERYTHING we sell on this site 100%.
All plants are 100% guaranteed to grow and thrive. If you follow our simple care instructions, and if any plant still does not grow, please notify us by June 1 of the following year and we will replace it or refund your money, with no questions asked. All Products 100% GUARANTEED!