Roll over image to zoom in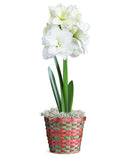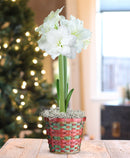 Description
Step into a winter wonderland with our White Amaryllis Holiday Basket, the ideal gift to capture the essence of the festive season. Each of these stunning bulbs unfolds into large, double flowers, boasting a pristine white elegance with a subtle cream center. These blooms are not just flowers; they are majestic displays, reaching up to 6 inches across, symbolizing purity, peace, and the joy of the holiday spirit. Set within a charmingly decorative green and red bamboo basket, measuring 7" x 6 1/2", each gift is a miniature garden of serenity and beauty. Topped with decorative moss, the presentation is as exquisite as the blooms themselves, making each basket a perfect blend of sophistication and festive charm.
Imagine the delight and wonder as these Amaryllis flowers bloom within just 4-6 weeks, transforming your space with their captivating beauty. This holiday basket is more than a gift; it's an experience, an opportunity to bring a touch of winter's grace into your home or share it with friends and loved ones. Each basket is a thoughtful expression of care and celebration, promising to bring smiles and a sense of tranquil beauty. Whether as a heartfelt present for someone special or a well-deserved treat for yourself, this White Amaryllis Holiday Basket is a testament to the beauty of the season. Order now and immerse yourself in the elegance and splendor of these magnificent blooms, a true reflection of holiday enchantment.
We guarantee EVERYTHING we sell on this site 100%.
All plants are 100% guaranteed to grow and thrive. If you follow our simple care instructions, and if any plant still does not grow, please notify us by June 1 of the following year and we will replace it or refund your money, with no questions asked. All Products 100% GUARANTEED!