Roll over image to zoom in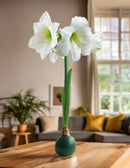 Description
Embrace the holiday spirit with our Green Waxed Amaryllis, blooming with pristine white flowers. This bulb, encased in a lustrous green wax, symbolizes the rejuvenation of nature amidst winter's embrace. Ideal for adding a touch of freshness to your festive decor, it requires no water or soil, making it a hassle-free addition to any space. Watch in wonder as it transforms your home into a winter wonderland. Bring this emblem of purity and renewal to your holiday gatherings today!
We guarantee EVERYTHING we sell on this site 100%.
All plants are 100% guaranteed to grow and thrive. If you follow our simple care instructions, and if any plant still does not grow, please notify us by June 1 of the following year and we will replace it or refund your money, with no questions asked. All Products 100% GUARANTEED!