Roll over image to zoom in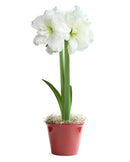 Description
Looking for a gift that's sure to brighten someone's day? Look no further than our Double White Amaryllis gift! With its stunning double white blooms, this gift is a real showstopper. And the best part? It only takes 4-6 weeks to bloom, so your recipient won't have to wait long to enjoy its beauty.
Our Double White Amaryllis gift comes in a gorgeous 6" decorative cranberry pot, making it the perfect addition to any home or office. Plus, it's easy to care for, so even those without a green thumb can enjoy its stunning blooms.
Whether you're looking for a thoughtful gift for a friend or loved one, or just want to treat yourself to a little bit of beauty, our Double White Amaryllis bulb is the perfect choice. So why wait? Order yours today and let the blooming begin!
We guarantee EVERYTHING we sell on this site 100%.
All plants are 100% guaranteed to grow and thrive. If you follow our simple care instructions, and if any plant still does not grow, please notify us by June 1 of the following year and we will replace it or refund your money, with no questions asked. All Products 100% GUARANTEED!