Roll over image to zoom in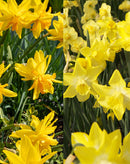 Description
| | |
| --- | --- |
| Genus | Narcissus |
| Bloom Time | Spring |
| Height | 4-6" |
| Color | Mixed |
| Foliage Color | Green |
| Sun Requirements | Full Sun, Partial Shade |
| Hardiness Zone | 3, 4, 5, 6, 7, 8 |
Embrace the allure of spring with our enchanting collection of mixed miniature daffodil bulbs, a symphony of vibrant colors and delightful fragrances. These charming little wonders are perfectly sized for creating whimsical borders or for adding a touch of magic to container gardens. Each bulb is a promise of joy, unfurling into delicate, trumpet-shaped blooms that dance in the breeze. Their radiant hues range from sunny yellows to creamy whites, each petal kissed with the warmth of the spring sun. Hardy and easy to care for, these daffodils are ideal for both novice gardeners and seasoned horticulturists, requiring minimal effort for a spectacular display.
Imagine your garden transformed into a canvas of color, where these miniature daffodils become the stars of the show. Plant them in clusters to create a sea of blooms or intersperse them with other spring bulbs for a tapestry of texture and hue. As they bloom year after year, these daffodils will not only beautify your garden but also become a cherished part of your outdoor sanctuary. Don't wait to add these little gems to your garden; let them inspire and uplift your spirit with each glance. Click 'Add to Cart' now and embark on a journey to a more colorful, joy-filled garden!
We guarantee EVERYTHING we sell on this site 100%.
All plants are 100% guaranteed to grow and thrive. If you follow our simple care instructions, and if any plant still does not grow, please notify us by June 1 of the following year and we will replace it or refund your money, with no questions asked. All Products 100% GUARANTEED!